Pick-up trucks generally have a straightforward design and construction that has been used for many decades. Typically, a truck has a chassis frame on which the cab is bolted, along with a cargo box at the back. It's an approach that has worked well as the chassis frame is tough and able to handle heavy loads, providing the durability that is required of a workhorse.
Anyone can make a truck as it does not require a lot of engineering expertise. However, to make a truck that is durable, reliable and lasting is a different matter. This is where not only expertise comes in but also experience in developing and manufacturing such vehicles. Such experience cannot be gained overnight, and has to be accumulated over a long period of time.
Over 85 years of experience
Few companies can claim to have experience in truck manufacturing as long as Isuzu Motors. The Japanese manufacturer has a history that goes back over 85 years to the time the original company (known as Tokyo Motors) began producing its first trucks. While many companies had to cease operations during the war years, Isuzu continued to produce trucks and kept on gaining experience and knowledge to make better vehicles.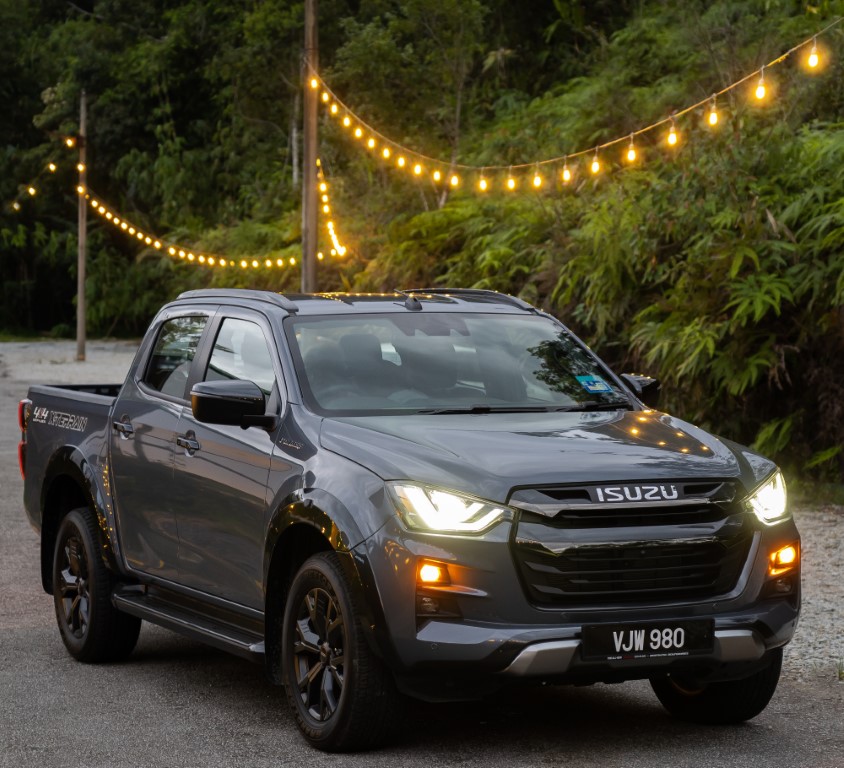 After the war ended, Isuzu returned to its commercial vehicle business and began to broaden its offerings to cater to various types of customers. With its engineering capabilities continuing to grow, it also began to advance development of diesel engines, having first started production of such engines in 1939.
As the reputation of Isuzu Motors grew internationally, it attracted the attention of General Motors (GM), then the world's largest motor vehicle manufacturer. GM was impressed with the light commercial vehicles Isuzu produced and even had a marketing tie-up to sell Isuzu's capable and proven KB trucks through GM dealerships in America in the 1970s.
The association with GM (with the American company even taking a share in Isuzu Motors) strengthened the Japanese manufacturer, enabling it to further develop its technologies and offer more reliable and more durable vehicles.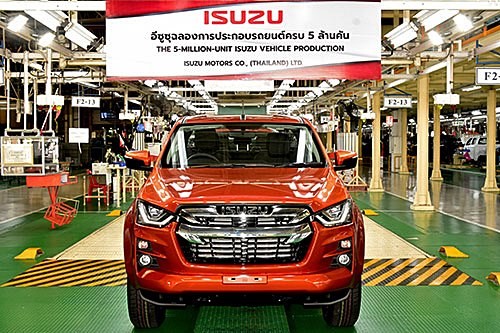 World's largest pick-up truck manufacturer
By the end of the 1980s, Isuzu Motors had become the world's largest pick-up truck manufacturer (by volume), and in markets like Thailand, it was a very strong, highly respected brand. Isuzu trucks sold in large numbers because customers found them to be exceptionally durable, especially the engine. With Thailand being the second largest pick-up truck market in the world after the USA, this was an important achievement for the brand.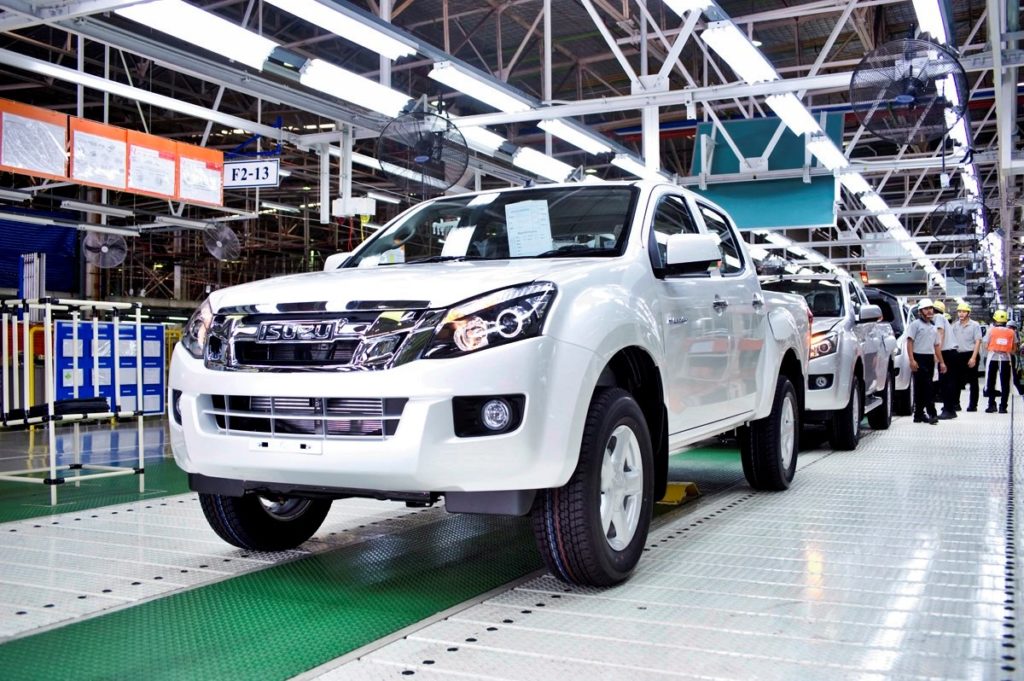 The popularity of Isuzu in Thailand and the large volume of sales resulted in the company stopping truck production in Japan and moving it to Thailand which would become a global manufacturing hub. This led also to the birth of the D-MAX, a model which would propel Isuzu into a leadership position in the pick-up truck market.
Enter the D-MAX
The first generation of the D-Max had its world premiere in 2002, and was very quickly introduced in many other markets, including Malaysia. With successive generations, the D-Max would keep growing in popularity to the extent that it could challenge and, in Thailand, it beat the Toyota Hilux, the long-time market leader.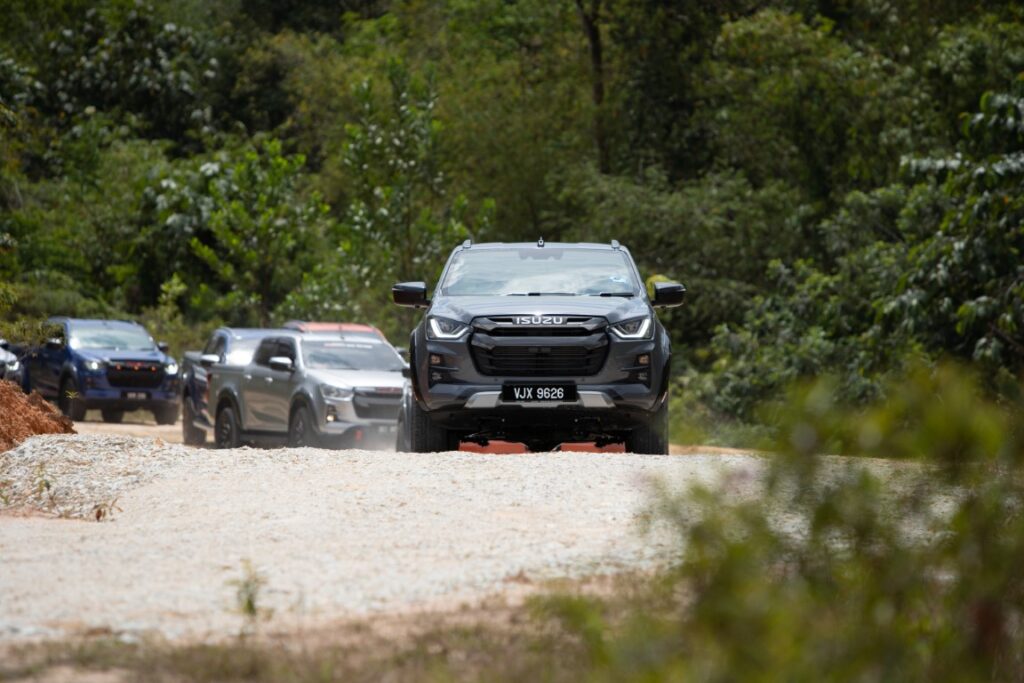 The dominant position was greatly strengthened with the third (current) generation which was launched in 2021. It has a more stylish but still rugged image, variants with more premium features, and an efficient and robust powertrain. Developed with the long past experience of making trucks as well as input from truck users around the world, the D-Max remains King of the pick-up truck market and the obvious choice for pick-up truck buyers.
Advanced diesel technology
As a specialist in trucks, Isuzu Motors also developed expertise in engine technology, particularly with diesel engines. Right from the start in the 1930s, Isuzu Motors' engineers had the determination to always push the boundaries of not just vehicle engineering but also powertrain engineering. From the DA4/DA6 diesel engine that was the company's first diesel unit to the DL201 that was the pioneer in passenger vehicle diesel engines, to today's turbodiesel engines in the D-Max, Isuzu Motors has consistently advanced diesel engine technology.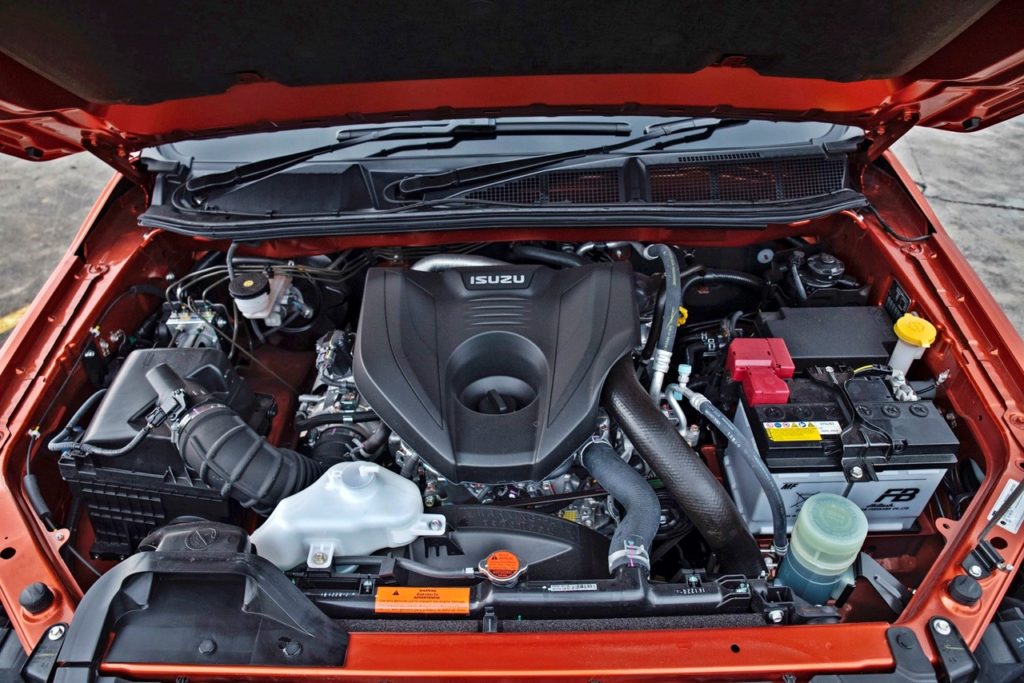 Proven engines like the 4JJ3-TCX in the D-MAX X-Terrain have continued to receive improvements and re-engineering that raise their efficiency. The latest version of the 3-litre 4-cylinder 'Blue Power' turbodiesel engine has numerous advancements that improve performance while reducing noise and vibration.
The engine produces 190 PS/450 Nm, with peak torque starting from as low as 1,600 rpm and available up to 2,600 rpm. The torque curve, together with a robust 6-speed automatic transmission, optimises power delivery for any condition and demand.
Drawing on decades of experience, Isuzu engineers have also developed other powertrains to suit different market needs, including a smaller diesel engine with high efficiency and output. Referred to as 'downsizing', this approach uses technologies like direct injection and turbocharging to boost output.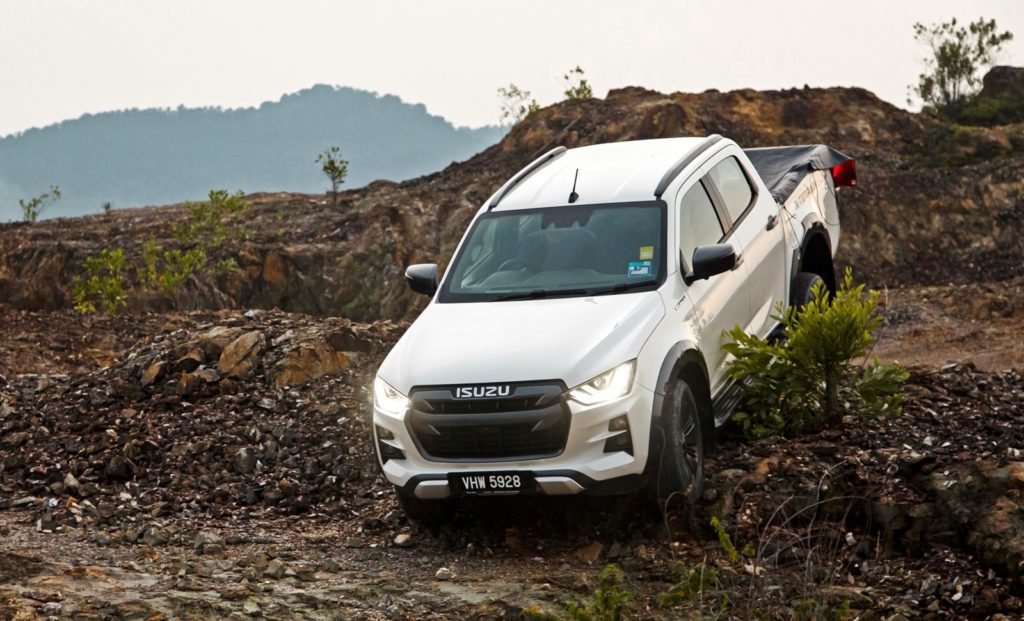 Proven reliability in the real world
At the same time, the need for reliability and durability could not be diminished as a pick-up truck often operates in tough off-road conditions. Isuzu customers expect their vehicles to be tough and reliable at all times. While the controlled testing conditions of R&D centres and test tracks validate the capabilities of the engines, the real test is in the real world where trucks are driven daily.
The D-Max has proven itself over many decades and with the latest D-Max X-Terrain, Isuzu continues to show that its pick-up trucks are undeniably the best in the world.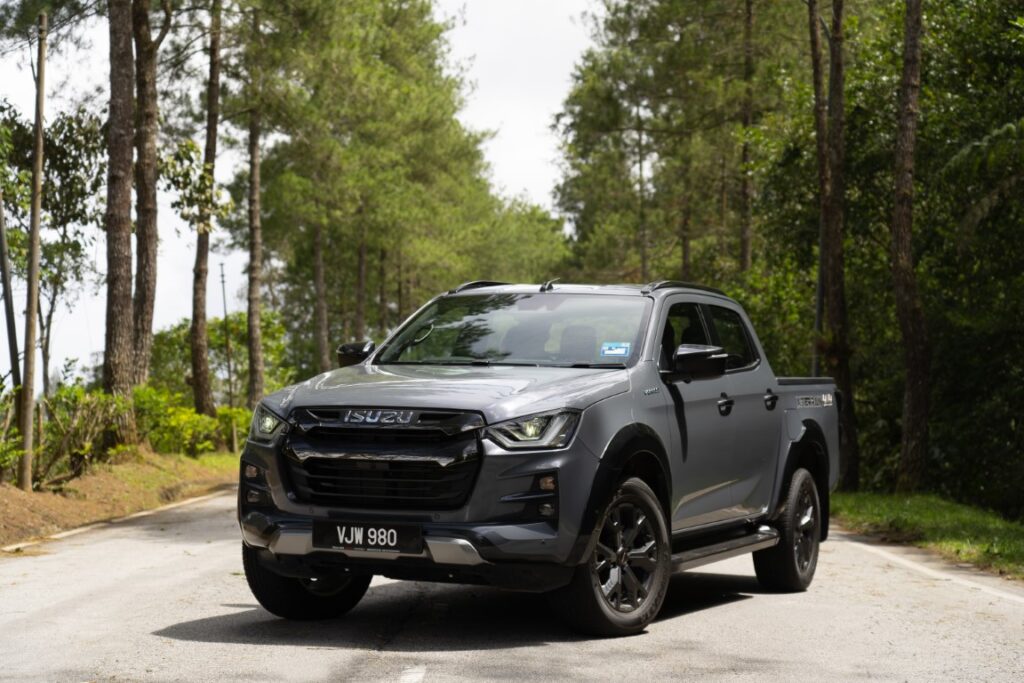 The newest and latest addition to the stable
In pure Isuzu fashion of keeping up with times yet staying true to its roots of creating reliable pick-up trucks, Isuzu Malaysia introduced the facelifted Isuzu D-Max that is led by a new X-Terrain model and includes seven updated variants of the Isuzu D-Max with each having its own enhanced list of features.
Distinguishing new from old are a host of new updates that include:
A New Front Grille that is blacked out with fang-like features that give the Isuzu D-Max a more aggressive appearance.
New blacked out 18-inch alloy wheels that gives the Isuzu D-Max X-Terrain a sporty character that suits customers who use their Isuzu D-Max in urban as well as off-road. The Premium variant also gets new 18-inch alloy wheels finished in silver while the Auto Plus and Standard models get 17-inch silver wheels.

The Isuzu D-Max X-Terrain and Premium variants come with new black combination leather seats with Anti-Vibration Elastic Comfort Foam that keep the occupants comfortable over long-distance journeys, besides looking great of course. The Auto Plus and Standard models get redesigned fabric seats.
The Isuzu D-Max X-Terrain and Premium model also get a Wireless Charger with New Type-C USB Charging Port that makes it easier for busy customers to recharge their phone by simply placing it on the charge pad. Further complementing the charge pad is a Type C charging port that allows for a quicker recharge when necessary. The D-Max Auto Plus model on the other also gets a wireless charger but without the Type C charging port as standard.
New D-Max X-Terrain get a New front and rear Digital Video Recorder that records in 1440 pixels up front while the rear camera records at 1080 pixels. Not only that but there is also a memory card included for free so there is no additional cost incurred.
Upgraded Suspension for the 3.0L Premium variant that is now able to handle 775kg from the previous 580kg, an improvement of 195kg from before.
For those who use their Isuzu D-Max off-road, the great news is that the entire 4×4 range now offers electronically-actuated rear differential lock which offers traction, control and the performance required to handle the most demanding terrains.
ALLSIGHT Safety Technology
The Isuzu ALLSIGHT Comprehensive Safety technology is a suite that packages all the available Advanced Drive Assist System(ADAS), Active and Passive safety features under one name. The systems offers more than 30 different safety systems and employs advanced sensors, a stereo camera and cutting-edge technology to mitigate road hazards. Some of the safety tech includes: Turn Assist, Forward Collision Warning, Autonomous Emergency Braking, Pedal Misapplication Mitigation, Adaptive Cruise Control, Lane Departure Warning, Automatic High Beams, Blind Spot Monitor and more. This does not include all the already available Active and Passive Safety features.
Besides that, there are also new colours available across the range of the new Isuzu D-Max but most importantly for all customers is the fact that new Isuzu D-Max X-Terrain come with 7 years unlimited mileage warranty and other Isuzu D-Max models come with a five year or 150,000km warranty
To know more about the latest D-MAX, visit pickuptruck.isuzu.net.my or www.facebook.com/ISUZU.DMax.Malaysia.