Over the past few years, the pickup truck has been referred as work horse where pickup trucks began as utility and commercial vehicles used for farming and other off road heavy tasks. As the pickup trucks evolving in terms of design and technology as consumers are favoured the choice for a safe, elegant and versatile driving vehicle.
Nowadays pickup trucks are becoming the preferred choice of transportation for many families after SUV. The practicality of pick-up trucks mainly on ride height navigating flood and for a better viewing capability, hence cargo space perfect for varieties of storage purposes.
Owning a pickup truck has a lot of advantages over disadvantages and it is a wonderful choice for weekend adventures drive due to its versatile design and an ideal choice for family car on a daily usage.
Isuzu D-Max X-Terrain Luxury Features
Entering the cabin area of the Isuzu D-Max X-Terrain indulge in comfort tailored the feeling of SUV look alike enjoyment behind the wheel. The interior is the perfect balance of beauty and functionality.
Isuzu D-Max X-Terrain has all the SUV's comfort and style. A quiet cabin with ample of legroom and headroom to accommodate the entire family. Isuzu D-Max X-Terrain, a game-changer, with materials and colour coordination that rivals that of a higher-end SUV.
The combination leather seats breathable material, and the "Anti Vibration Elastic Comfort Foam" padding foam tunes out harsh vibrations are supple and well-supportive with splendid thigh and side supports that gives a superb comfortable seating position for a long journey drive.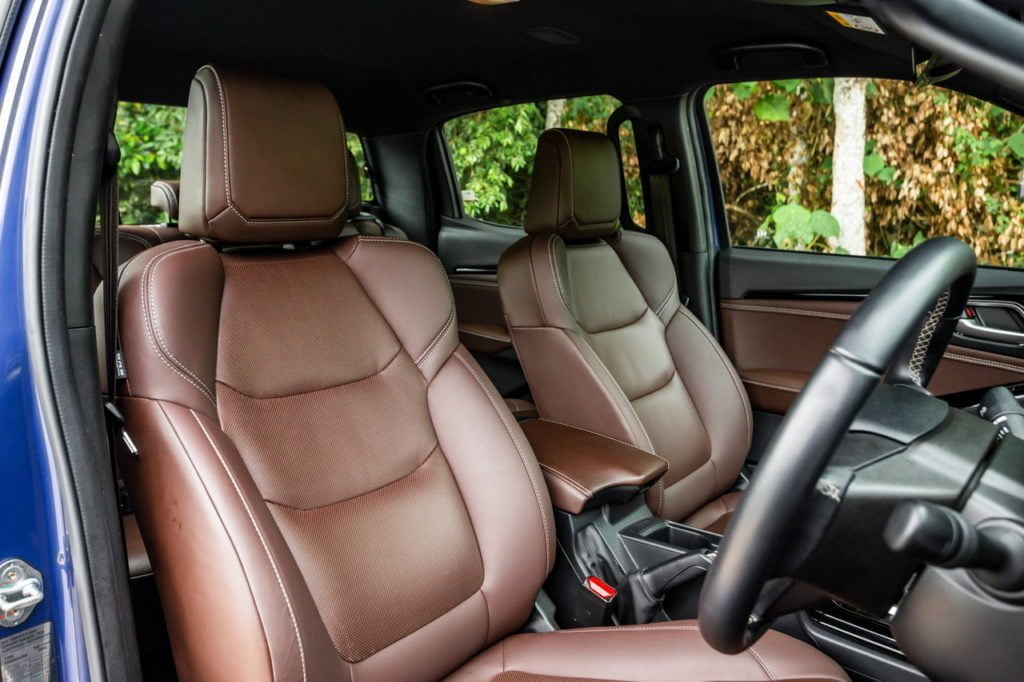 The use of soft-touch materials on the dashboard, door trim and touchpoints feel fittingly solid. The design and materials are well put-together and feels closer to a premium SUV than it is to a pick-up truck.
Other features in the Isuzu D-Max X-Terrain variant is the auto-dimming rear view mirror, 4-spoke leather wrapped steering wheel, leather wrapped gear knob with satin chrome ornament, automatic dual zone climate control, USB charging ports located at the front and rear, e-LUMAX analogue instrument cluster with 4.2-inch multi-info display (MID) with colour display which displays information such as RPM, speed, fuel consumption and temperature, is one of the features to look forward to.
The 9-inch touchscreen infotainment system head unit is impressive that coupled with 8 speakers live surround sound is satisfactory. The user interface is snappy, and it support Android Auto and Apple CarPlay to upkeep with the current trend of must have list of items in the market.
Isuzu D-Max X-Terrain Driving Performance
The Isuzu D-Max X-Terrain 4JJ3-TCX engine is quiet and powerful which supersedes the previous 4JJ1 engine. The Isuzu D-Max X-Terrain 4JJ3-TCX engine feels light, smooth and very responsive with an instant throttle response improvement making a peak power figure of 190 PS and 450 Nm of torque, 13 PS and 70 Nm more than its predecessor. The 6-speed automatic transmission is excellent with smooth gear changes that doesn't elicit shift shock.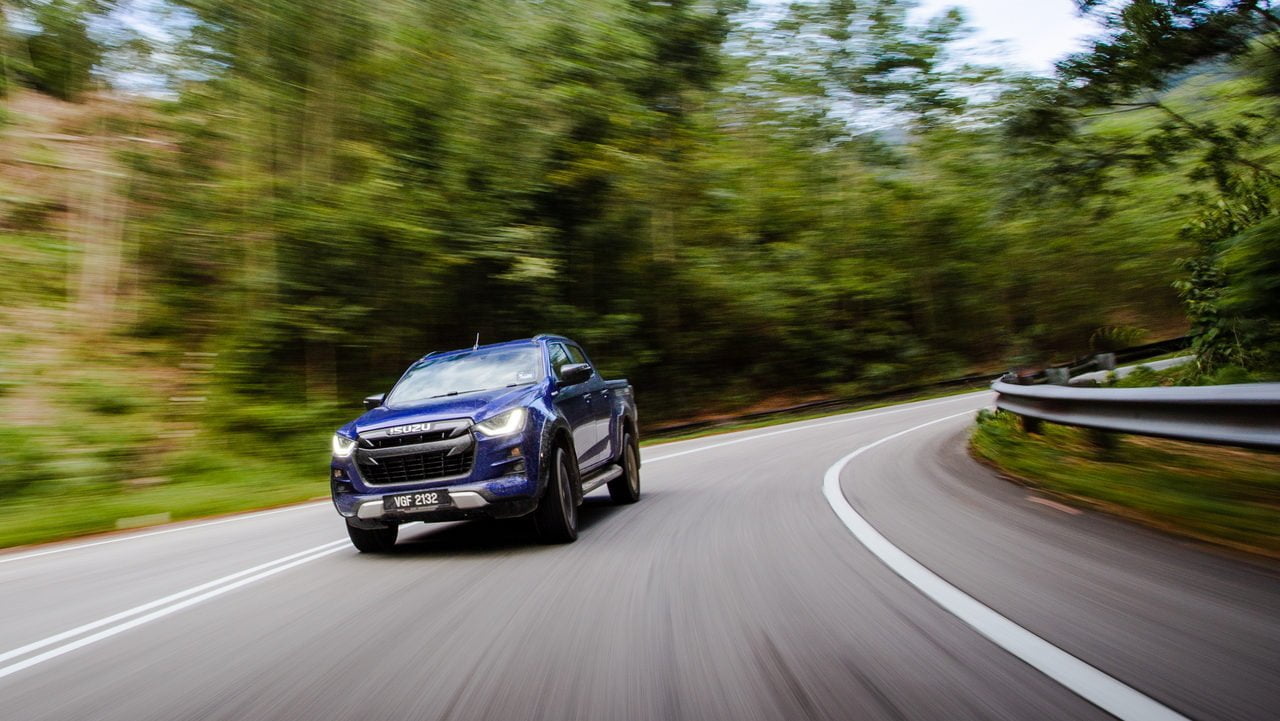 The Isuzu D-Max X-Terrain ride and handling are supremely comfortable. The front suspension equipped with independent double wishbone, coil springs and stabilizers. As for t the rear suspension, it is equipped with semi-elliptical leaf springs.
The chassis has been refined with additional cross members for improved safety and stability and has undergone an extensive 4 million kilometres durability test before being approved on the road for consumers. The steering and brake response of the Isuzu D-Max X-Terrain driving elements suit relaxed driving styles being on-road or off-road condition.
800 mm of water wading depth something of a more advantage topic to be highlight especially with the flood situation occurred currently. The design of the 18-inch wheels blends well with the radical masculine exterior of the Isuzu D-Max X-Terrain.
Isuzu D-Max X-Terrain Exterior Features
The Isuzu D-Max X-Terrain was shaped in the same wind tunnel as the Shinkansen bullet train crafted to provide the best possible long-lasting impression.
The Isuzu D-Max X-Terrain Bi-LED projector automatic headlamps provide superb illumination and equipped with automatic levelling, whereby the "Follow Me Home Light" features are useful during at night. The rear combination lamps are fitted with LED as standard.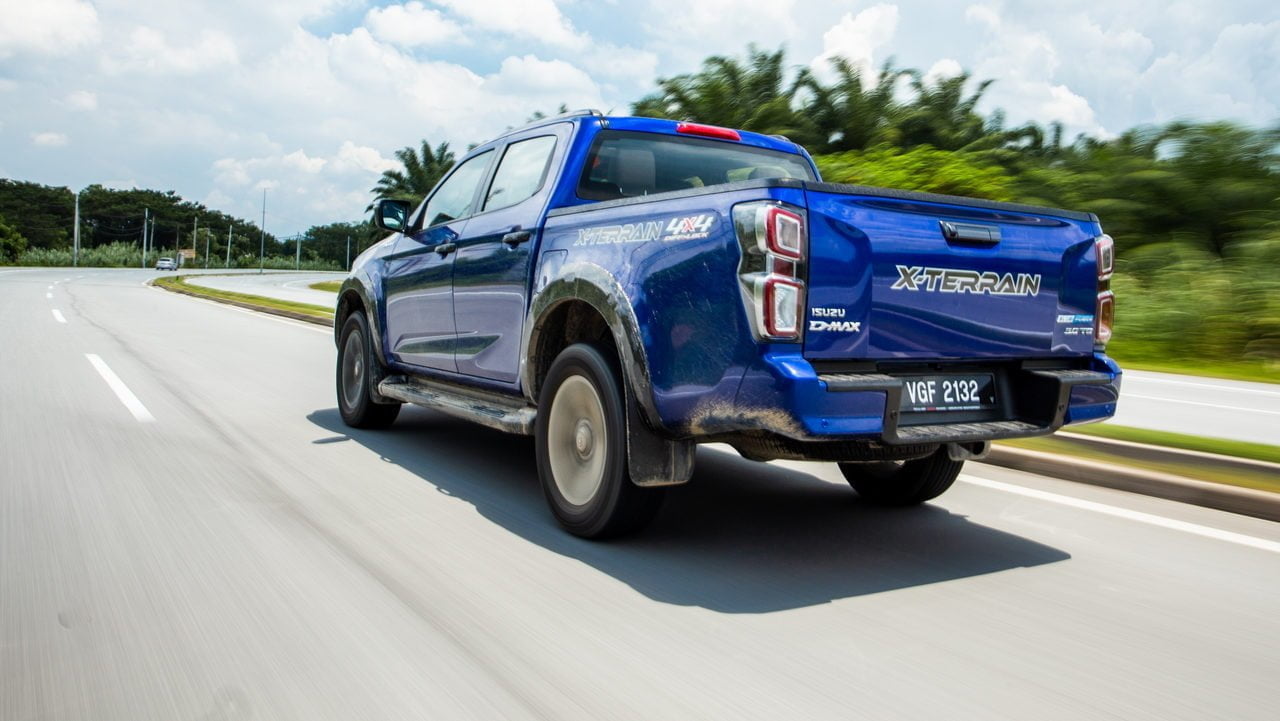 The Isuzu D-Max X-Terrain spacious cargo bed fits practically everything. It caters both for road trip adventure and storage of huge items for daily work purposes as well. Typically, the greater usage of the Isuzu D-Max X-Terrain mainly on outdoor activities such as cycling, camping or boating and it can easily transport the equipment. The tailgate assist features for a soft opening and the sliding cargo tray provides simplicity and convenient storage in the cargo bed.
Isuzu D-Max X-Terrain Technology Features
The Isuzu D-Max X-Terrain equipped with engine remote start function where it starts the engine to power up the air conditioner to cool down the cabin before entering the vehicle.
The walk away door lock features will automatically lock the vehicle once walk away with the presence of the remote key without having to press to lock on the remote or the door handle.
Isuzu D-Max X-Terrain designed to appeal on its new standard of safety, which includes an advanced driver aid system. It not only detects and informs the driver to probable collisions in front of the car, but it also brakes automatically to avoid collision.
Turn assist feature, which helps monitor opposing traffic when turning and brakes automatically to avoid accident. The cruise control feature, which adjusts the cruising speed based on the surrounding vehicles and the drift detection and warning feature, which detects and warns the driver when the vehicle steer to another lane. The Blind Zone Monitor alerts the driver when a vehicle approaches the blind spot.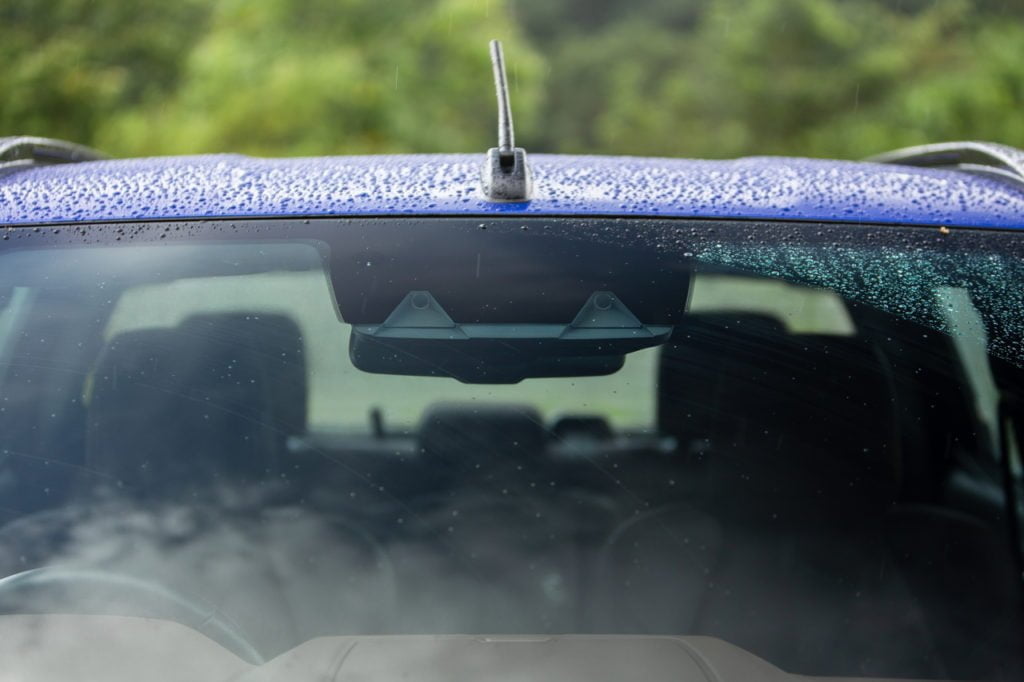 The Isuzu D-Max X-Terrain packed with ADAS that gives you peace of mind behind the wheel. The Advanced Driver Assist System (ADAS) safety features combining radar, stereo camera and sonar technology:
Forward Collision Warning (FCW)
Autonomous Emergency Braking (AEB)
Turn Assist
AT Pedal Misapplication Mitigation
Adaptive Cruise Control with Stop and Go (ACC)
Lane Departure Warning (LDW)
Automatic High Beams (AHB)
Isuzu D-Max X-Terrain Safety Features
Isuzu's commitment to a safer pickup truck where the Isuzu D-Max offers modern car-like safety in a light commercial vehicle, with a five-star ANCAP rating.
The Isuzu D-Max X-Terrain is equipped with state-of-the-art safety features that includes 7- SRS airbags, anti-lock brake system (ABS), electronic brake-force distribution (EBD), brake assist (BA), electronic stability control (ESC), traction control system (TCS), Hill start assist (HSA), hill descent control (HDC), emergency stop signal (ESS), front and rear parking sensor and reverse camera.
The Isuzu D-Max X-Terrain is equipped with ISOFIX with top tether and child protection safety lock as the primary objective to focus on family vehicle usage.
Isuzu D-Max X-Terrain Summary
Isuzu D-Max X-Terrain genuinely a top-notch choice for anyone. It has brought a whole new level of premium ambience and refinement versatility suitable as a family vehicle as well as for city driving.
Isuzu D-Max X-Terrain has truly shed its utilitarian and workhorse image. Its muscular design, practical and gaining popularity for not only the size and unique capabilities, but also for its comfort and safety for both travel and business with its look alike characteristic of SUV. The Isuzu D-Max X-Terrain designed to, all the power you need and the thrill you want for a sportier and pleasurable to drive. Isuzu has been proven for a symbol of strength with its precise engineered for durability, reliability and fuel efficiency.