Women favour SUVs or sedan vehicles when it comes to owning a vehicle. However, instead of settling for a regular vehicle, pickup trucks are attracting more female drivers. Pickup trucks have evolved from commercial usage to be the choice of vehicle for urban female drivers who valued freedom and versatility.
Pickup trucks are attractive, practical and gaining popularity for not only its muscular size and unique capabilities, but also for the comfort, safety and practicality.
The enormous modern style and sturdy appearance design appeal to women because of its limitless possibilities well-known for a few characteristics such as the adaptability, cosy cabins and luxurious feelings.
This makes driving a lot of fun especially when going on a road trip, hanging out with friends or just a weekend enjoyable mind calming drive.
Women Inspire the all-New Isuzu D-Max X-Terrain
Being women driver on the road, the Isuzu D-Max X-Terrain able to provide the confidence manoeuvring in the city and driving alongside with male drivers on the road. The height and the size of the Isuzu D-Max X-Terrain would be able to portray a bigger and stronger woman. The Isuzu D-Max X-Terrain higher water wading depth gives women driver more courage behind the wheel wading through floods as well.
The vehicle height of the Isuzu D-Max X-Terrain provides the sense of security due to the increasing of break in windows snatch theft especially stopping at the traffic light and peace of mind manoeuvring on off road on a certain time where the Waze applications directs you to an unknown location or road condition.
The engine remote start features where it starts the engine to power up the air conditioner to cool down the cabin before entering the vehicle and the walk away door lock features will automatically lock the vehicle once walk away with the presence of the remote key with you without have to press to lock on the remote or the door handle.
The Isuzu D-Max X-Terrain Bi-LED projector automatic headlamps provide superb illumination and equipped with automatic levelling and the "Follow Me Home Light" features are useful while searching for house keys in the handbag and opening house door at night time.
The Isuzu D-Max X-Terrain engine equipped with TDI provides greater power and very responsive with an instant throttle response making a peak power figure confidently for overtaking and climbing Genting Highland or Cameron Highlands without compromising the fuel efficiency. The Isuzu D-Max has been proven to be fuel efficient (Dura Mission Campaign from BKK-KL-SG with a single tank full of fuel and the recent 1.9 SC challenge with a single tank full exceeding 1000 Kilometres)
Unleash the beast by activating the 4X4 mode for a more adventurous driving at Cameron Highlands remote area for a better traction while manoeuvring the slopes and muds. The 6-speed automatic transmission is excellent with smooth gear changes that doesn't elicit shift shock.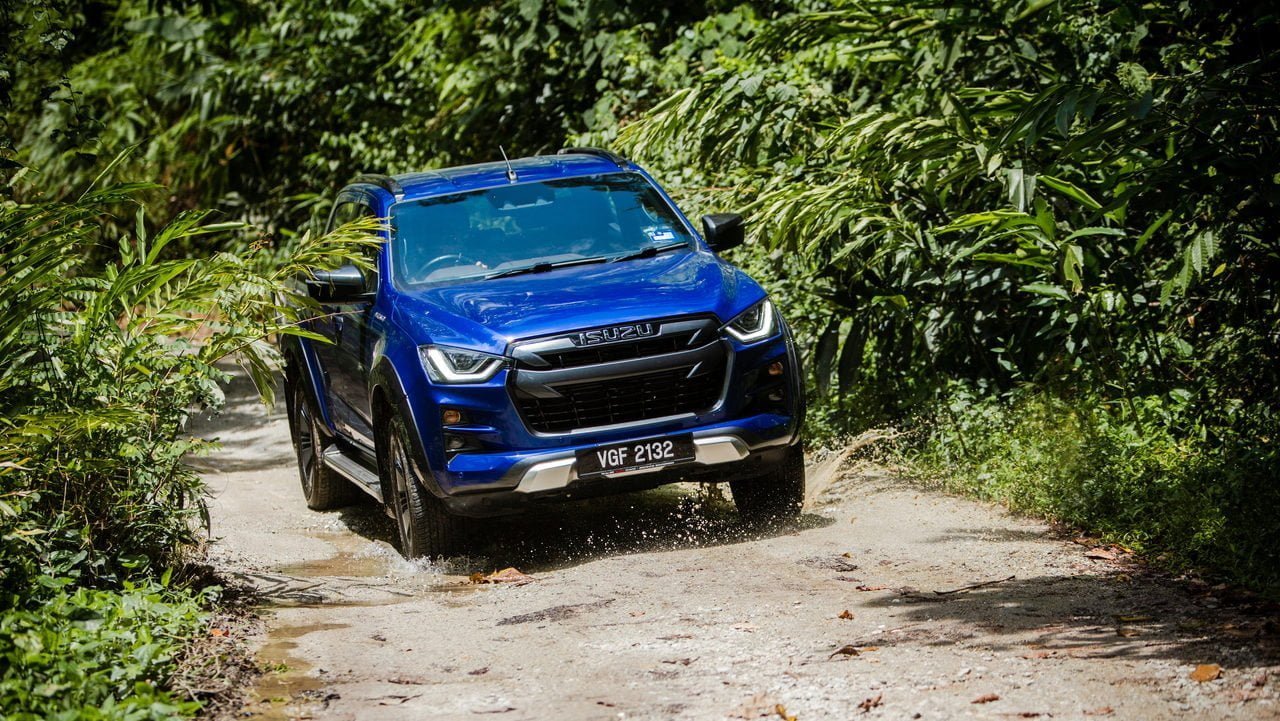 The Isuzu D-Max X-Terrain ride and handling are supremely comfortable. The chassis has been refined with additional cross members for improved safety and stability. Steering and brake response suit relaxed driving styles being on-road or off-road condition.
The Isuzu D-Max X-Terrain comes with 7 years class leading warranty where it is one of the main reasons for women drivers to opt for the Isuzu D-Max X-Terrain for peace of mind. Couple with Dr. Mobile service, rest assured you are in safe hands no matter what issues you are encountering and where you are located at.
The Isuzu D-Max X-Terrain brought a whole new level of premium ambience and refinement versatility and has truly shed its utilitarian and workhorse image. Its muscular design, practical and gaining popularity for not only the size and unique capabilities, but also for its comfort and safety for both travel and business with its look alike characteristic of SUV.
This is another compelling reason why women prefer the Isuzu D-Max X-Terrain as their best companion with the best fuel economy and maintenance in its class. More saving means better quality of life for family.
Isuzu D-Max X-Terrain Interior
The Isuzu D-Max X-Terrain ride height provides a greater distance viewing at the front and spot precisely on vehicles approaching from behind. The ultimate reason why women prefer pickup trucks is the high seating position that gives a better sense of security to be more aware of the surroundings and have few to no blind zones.
The Isuzu D-Max X-Terrain family friendly concept design with a combination of leather seats that provides an ample comfort and support to the passengers. The 8-way Power Adjust with Lumbar Support for the driver's seat, an ideal requirement for women being on the driver seat for a better seating position with an ease.
The rear seat Isofix comes as standard for peace of mind mounting baby seat. The seating position is not too upward with a slight comfortable slant for a comfortable long journey travels the seat is configured with 60:40 split with fold up/down features for versatile arrangement for storage needs.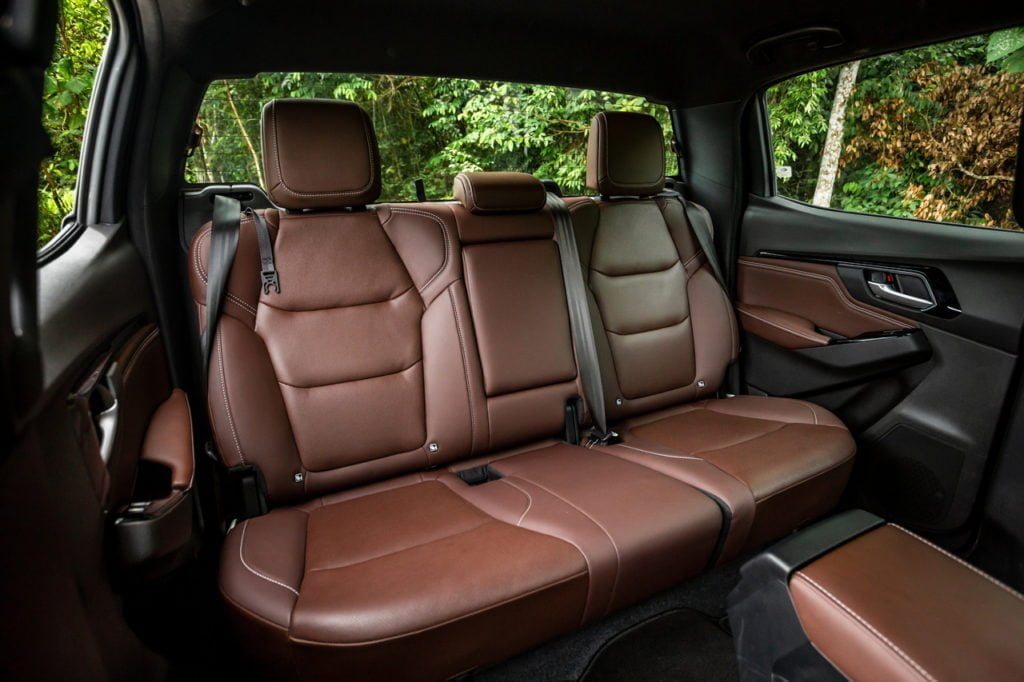 The Isuzu D-Max X-Terrain features the 9-inch Touch Screen Infotainment system that support Apple Car Play and Android Auto, leather steering wheel with audio control, Bluetooth connectivity, voice recognition switches, 8 speaker Live Surround Sound, e-Lumax with colour display MID and leather gear knob with indication illumination.
The most ideally preferred by women is the automatic dual zone climate control, where it controls the temperature individually especially during night-time when it is cold. The tilt & telescopic steering adjustment which it is an ultimate needs and wants for women driver to cater for ergonomic driving position.
The rear vents air conditioner and USB charging port provides the convenience accessibility for the comfort of the rear passengers, especially ladies to charge their phone or tablets while on the move.
Isuzu D-Max X-Terrain Exterior
The Isuzu D-Max X-Terrain stand out in style that gets a second look when drive by. Each aspect of design from the front to the rear is crafted to provide the best possible long-lasting impression and crafted to be the perfect companion especially for women driver that takes the wheel.
The Isuzu D-Max X-Terrain spacious cargo bed fits practically everything, including mattresses, suitcases, Ikea furniture and even huge Christmas tree. With the extra capacity, family and friends can easily travel for a fun day of shopping or a road trip adventure.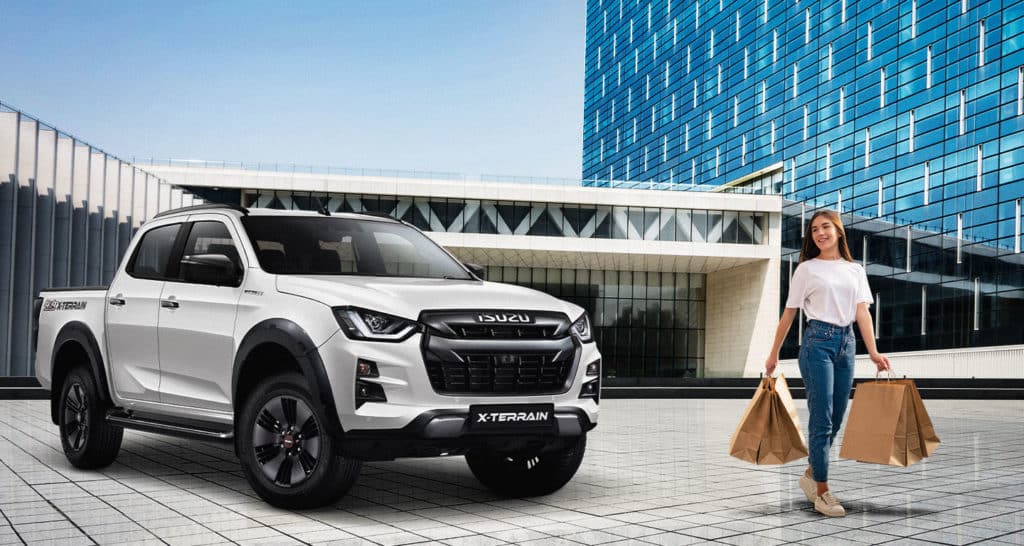 Alternatively, if you're a creative type, turning the truck's bed into a tiny pool party and sleeping under the stars are both fun and cool possibilities. Less strength needed to open the tailgate thanks to its tailgate assist features and the sliding cargo tray provides simplicity and convenient to slide in and out for the storage of long items.
Isuzu D-Max X-Terrain Safety Features
Women do have the perception pickup trucks to be a deadly vehicle; however, in today's pickup truck technology is equipped with passive and active safety features that aid drivers in avoiding collisions.
Key highlights state-of-the-art Advanced Driver Assist System (ADAS) safety features combining radar, stereo camera and sonar technology that includes Forward Collision Warning (FCW), Autonomous Emergency Braking (AEB), Turn Assist, AT Pedal Misapplication Mitigation, Adaptive Cruise Control with Stop and Go (ACC), Lane Departure Warning (LDW) and Automatic High Beams (AHB), Blind Spot Monitor (BSM), Rear Cross Traffic Alert (RCTA), Manual Speed Limiter (MSL) and Multi Collision Brake.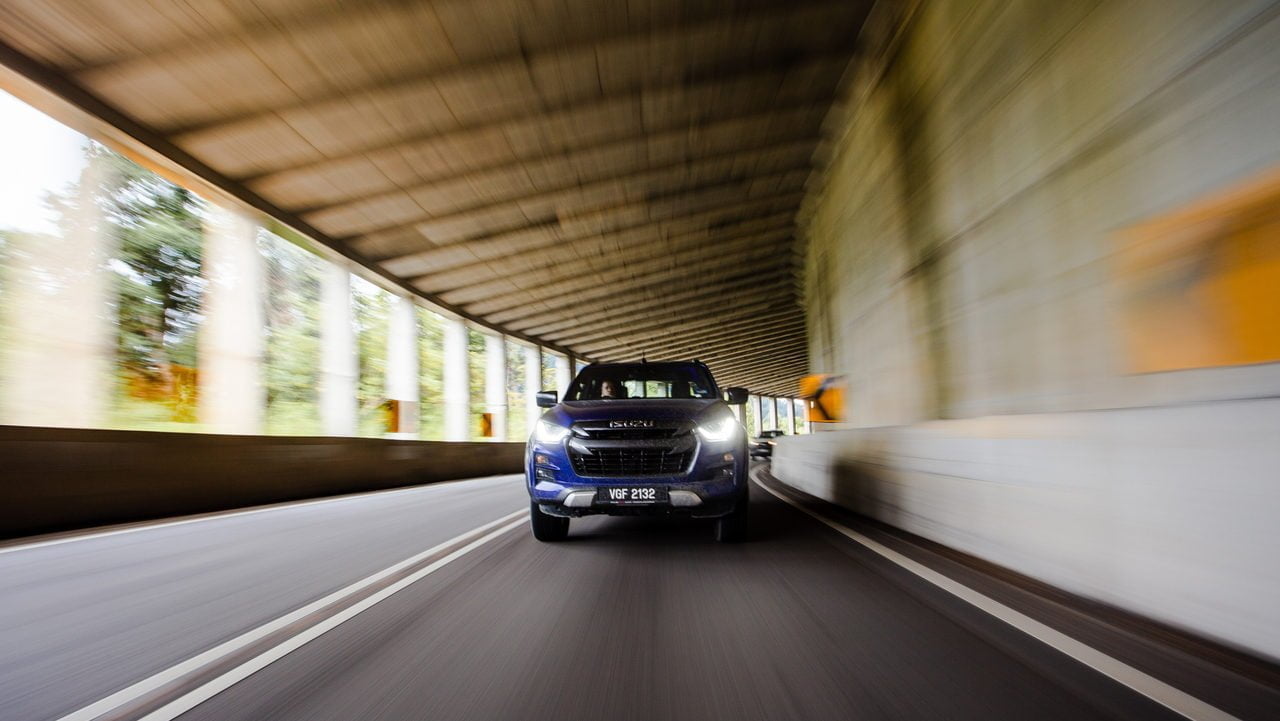 Isuzu's commitment to a safer pickup truck where the Isuzu D-Max offers modern car-like safety in a light commercial vehicle, with a five-star ANCAP rating (tested in 2020) Isuzu D-Max received 83% rating for adult occupant protection, 89% rating for child occupant protection, 69% rating for vulnerable road users (pedestrians and cyclists) and 84% rating for safety assist systems. (https://www.ancap.com.au/safety-ratings/isuzu/d-max/1d9f49)
Isuzu D-Max X-Terrain Summary
The Isuzu D-Max X-Terrain most preferred pickup trucks settling for a regular vehicle. Its muscular design, practical and gaining popularity for not only the size and unique capabilities, but also for its comfort and safety for both travel and business with its look alike characteristic of SUV.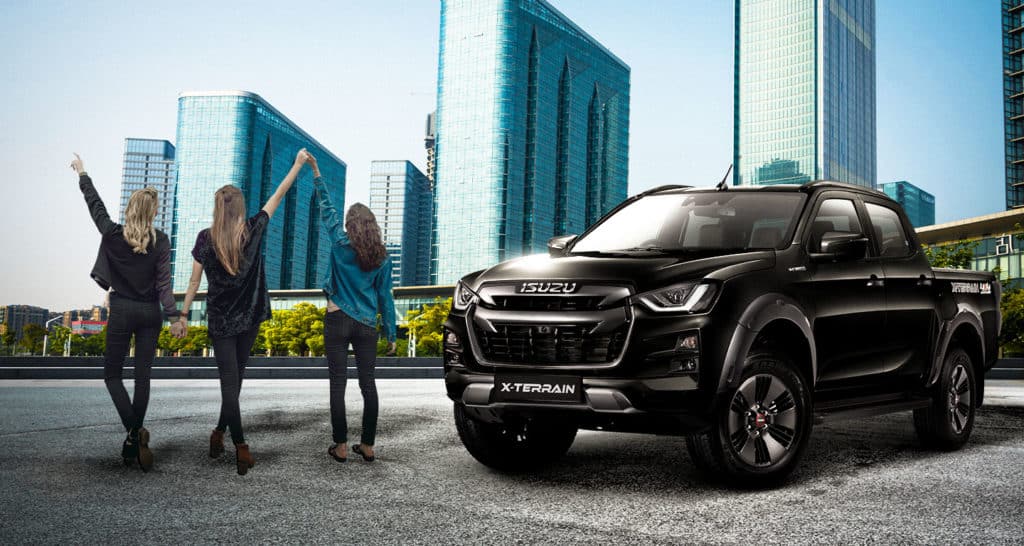 The Isuzu D-Max X-Terrain designed to, all the power you need and the thrill you want for a sportier and pleasurable to drive. Isuzu has been proven for a symbol of strength with its precise engineered for durability, reliability and fuel efficiency.
Once experienced the Isuzu D-Max X-Terrain, it provides the feeling of security, ride enjoyment and would fall in love instantly with its muscular characteristic design indulge in perfect balance of beauty, comfort and functionality that signify women perception as a friendly concept vehicle.