Pick-up trucks offer the most versatility among all types of transportation forms. The advent of the pick-up from being a mere commercial workhorse to one that would impress just about anyone with its off and on-road capabilities means that some households make do with just one pick-up truck and nothing else.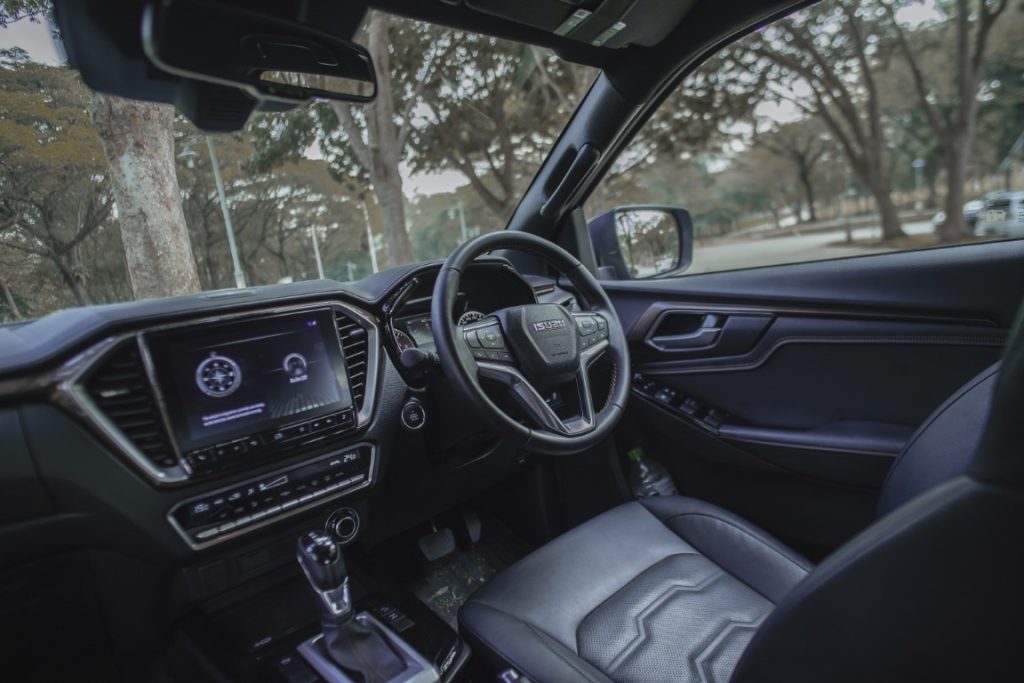 Trucks like the Isuzu D-Max X-Terrain boast comfort that can put the competition to shame together with features that do not only keep occupants safe but also comfortable over large distances.
Because pick-up trucks like the X-Terrain can trace their DNA back to off-road conquering machines that have robustness engrained into every aspect of their being, the X-Terrain is almost indestructible during regular everyday use.
But just because a pick-up can seemingly survive in all conditions, does not mean that it does not need to be cared for. Just like any other vehicle on the road, an Isuzu pick-up truck, despite its go anywhere & survive anything attitude, still needs some tender, loving care for it to run just as the manufacturer intended.
If cared for properly, a well-maintained pick-up truck should last about two decades or perhaps even more. It is quite common to see pick-ups from the 90s still plying Malaysian roads. Of course some may be filling up the environment with black diesel smoke, but a well-maintained one will run like clock work.
So what do you need to do to ensure your pick-up truck runs as smoothly as possible for as long as possible?
Clean it regularly
Just like you feel great after a good bath, your truck will appreciate a proper cleaning job as well. That is not to say that you should unscrew everything and brush everything down until it shines, but stick to the basics.

Clean up the dash using water or light treatment agents that keep it safe from Malaysia's gruesome sun. This will keep it safe from cracks and hardening especially if you regularly park it outdoors.

Also use cleaning and protection agents on your leather seats but be careful what you choose. Some cleaning properties make the seats too slippery and that means that your passengers and you could be left sliding around during braking and accelerating.
Tyre maintenance
Now this might be the most over mentioned part of vehicle maintenance, but well maintained tyres will ensure your pick-up truck works exactly how it was intended to.

Under inflated tyres will strain the powertrain especially if you regularly tow or carry heavy items. Under inflation means the powertrain has to work harder to move the car and this will also result in increased fuel consumption.

On the flipside, over inflated tyres are not a good thing either. Over inflation happens when there is too much air in the tyres and this means that the contact patch between road and tyre is lessened, which can be very dangerous as grip is not optimized. In order to ensure that the tyres are always at their optimal pressure, you can always refer to the owner's manual or the OEM recommended sticker located on the side of the B-Pillar.

Also keep in mind that it is important to rotate your tyres. Most pick-up trucks are rear wheel driven, so that is the working wheel. By switching up the tyres, you are basically ensuring that all tyres work equally and wear and tear is evenly distributed.
Check your suspension
This might be difficult for you to do at home by yourself, but regular visits to an authorized service centre will ensure that your suspension system is well maintained. Parts such as the struts, springs, shock absorbers and linkages need to be regularly checked to ensure none of the rubber parts are worn down and that rust is not damaging anything.

A proper suspension check should be part of your routine maintenance, especially if you regularly travel long distance or carry or tow heavy items. A suspension system that is not maintained properly risks sagging or even breaking. It is recommended to check your suspension every 10,000km or every 12 months. Your preferred official service centre will be able to do that for you and recommend repairs if needed.
Change engine oil and fluids
If there is one thing that you should do regularly, it is to ensure that the engine oil and all fluids are changed regularly. Sticking to the manufacturer's maintenance recommendation and schedule is the best way to ensure that your truck runs like new for the longest time possible. It is also important to ensure that all oils and fluids follow the manufacturer specifications in the service booklet. For accurate information, you can refer to the service booklet.

Fluids such as the gearbox oil, brake oil, coolant, power steering fluid and windshield washer fluids are kept at the recommended level and are changed regularly.
Keep your battery and alternator in top form
The last thing anyone wants is a weak battery that can leave you stranded with a car that is unable to start. You might think that a simple jumpstart might fix that but what if it is the alternator that needs to be addressed? That is why it is essential that you visit an official workshop that has all the appropriate tools to test the battery and alternator. If there is anything that needs to be changed, the official workshop will have all the required parts and tools as well.

Replace belts, hoses, brake pads, drive belts and timing belts
This is also very important as modern pick-up trucks are sophisticated. Turbo hoses cannot be leaking as that will impact power delivery and result in a sluggish ride quality. A torn belt will wreak havoc on the internals of an engine and a drive belt that has not been well maintained can leave you stranded.

It is important to follow the recommendations of the official service centre and to follow the maintenance schedule. Avoid using aftermarket parts as they may not be of the correct specifications in terms of length, width and overall quality. Using used or worn parts should be avoided altogether to ensure the longevity of your pick-up truck.
Replace oil and air filters
Filters are like the hair in your nostrils that ensure nothing dirty and nasty enter your lungs. Remember how good it feels to breathe when your nose is clean and there are no blockages? Well, your pick-up truck feels the same way too. When there is no dirt obstructing the air ways, your pick-up will perform as its best. Hence why it is important to ensure that all filters are consistently changed on time.

It is also extremely important to follow the correct filter specifications. Some filtes have too big of a gape inside them and that does not do a very good job and keeping dirty particles out of the system. This can be disastrous over the long term.
Visit an official service centre
It does not matter if you use your pick-up truck in the farm or just to navigate the urban jungle, your pick-up truck is your pride and joy. The best people that know how to keep it going like new are the people who have been trained to do so. The mechanics at the official Isuzu service centres have been properly trained to keep your pick-up running like new. We recommend visiting an official service centre who will know your truck better than anyone else.

It is easy on your wallet
Despite popular belief, it is not very expensive to visit an official Isuzu service centre. For reference, the cost of the first service of the Isuzu D-Max X-Terrain at 10,000km is just RM68.14 while the most expensive at 120,000km's is RM1266.54.

For comparison sake, the cost of maintaining an Isuzu D-Max 1.9L Auto Standard costs RM68.14 at 10,000km and RM1291.16 for the 120,000km mark. For everything that the Isuzu D-Max variants are capable of, the cost of maintenance is undoubtedly affordable.

It does not take much to ensure your pick-up truck keeps running like new, just stick to a regular maintenance schedule and ensure you visit an official service centre and use genuine parts. Keep to that and your Isuzu pick-up truck will keep running like new.
For more information on maintenance pricing, please visit https://pickuptruck.isuzu.net.my/maintenance/